FUN & EASY
Lessons are crafted in a way to teach you in a fun and easy way. Grammar pointers between lessons help you to learn everything necessary. Bonus detective games help you apply your knowledge while having fun.

LISTEN & SPEAK
Exercises are designed to encourage you to listen and speak. With feedback on your pronunciation, you understand which words you are speaking well, and which words you may need to practice more.

CONVERSATIONS
You practice what you ultimately desire to do - converse. Interactive conversation practice around situations like dining, shopping, and more, help you start speaking faster than you'd have expected.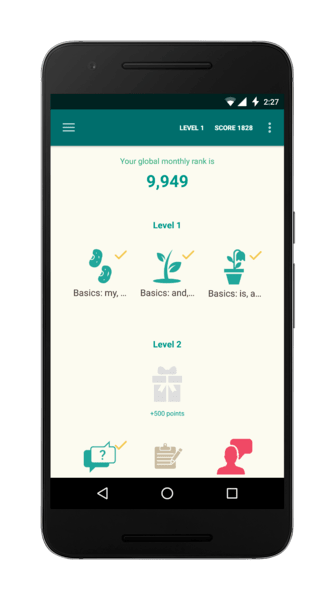 The fastest way to learn a language
With SpeakTribe, learning a language is fun. And easier than you might imagine. You start off learning the most important words. Words, phrases that help you start speaking in just 5 days!
Tiny, easy-to-understand grammar hints in between lessons make sure that you are understanding why you are using one word over another. That, along with the way SpeakTribe mixes up lessons for you, ensures you are always at your best concentration when learning.
What sets SpeakTribe apart though is the focus on conversational aspects of the language. After all, isn't communication the main reason for most of us trying to learn a language?
People who use SpeakTribe

Krispin
Productive. Really fun. I enjoy it better than Duolingo and I retain terms better. Great job.

Anurag M
Simple and easy to learn from! Learning Spanish from this app is quite intuitive and easy. It keeps introducing new words, sentences and pictorial representations at regular intervals and more importantly, does not get repetitive. Overall a great experience so far.

Emma G.
Love it Really useful at breaking down basic. Don't know why I bothered with Rosetta Stone.

Brendan H.
Fun and easy. I've been trying to learn Spanish for some time and I've always found myself giving up. This app makes it fun as well as simple to learn a very useful amount of Spanish. I have yet to try the extra levels require purchasing but I most certainly will be doing so.

1,100,000
Downloads

2,765,953
Hours Spent Learning

03
Courses offered